Unmissable deals you can't miss out on
Prologic spider pod £49.99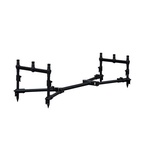 If you are a carp angler then this product could be what you are looking for. The fact that it is compact and lightweight make it brilliant to use and easy to carry around with you. It comes with four standard legs and two extension legs. What is also great is the fact that it can be placed in any kind of swim, making it highly versatile whether you want to use it from the road or in a natural lake. The new swivelling connection between the bansticks and buzzer bars also stand out about this product and mean that it is one that you absolutely must have.  
 Key features:
 Four extendable legs
Two adjustable extra long legs 43cm to 73cm
Adjustable main frame
Flip lock connections for bite alarms and rod rest
Carry bag included
Buzzer bar for 3 rod 30cm and 35cm
Buzzer bar for 4 rod 54cm and 60cm
Sonik AXS Camo 2 Man Bivvy  £489.99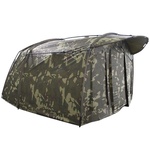 This large two-man size bivvy is ideal if you are going on a fishing trip with somebody else. Some of the other big benefits to this are the fact it has a porch with peak front for extra doorway protection, lightweight anti-twist 6061 aluminium poles and it is supplied with an oversize compression bad and heavy-duty T-pegs. Along with all of this it has a two-way letterbox door with green clear and mozzie door panels. Another great feature that makes this product a must have is the fact that it has a super strong AXS aluminium centre block for ultra-quick setup. So if you are planning that long awaited trip away then this is the perfect way to base yourself to get some much needed fishing done!
Compatible with double and single inner capsules (available separately)
Dimensions: H 1.90m W 3.20m D 3.65m
Weight: 21.5KG
Trakker Levelite Tall Oval Bed System  £449.99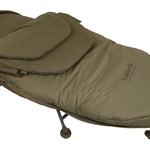 The Trakker oval bed system is perfect for those who need some additional leg room. Not only does it allow for this but it also leaves room for more luggage space which can be stored underneath the bed. This means more items to bring to fish with which is surely a bonus! Other really great features that come with this product include a completely flat profile, microfleece, high-density sculptured mattress, and full-length adjustable lumbar support for tailored comfort. When you think this product couldn't get better it is completed with a fully removable sleeping bag that has a hydrophobic robust honeycomb outer top layer. If the cold is something that bothers you then don't worry. There are external baffles to prevent cold air penetration. This product is also ideal to be bought with other Trakker products available with us.
TECHNICAL SPECIFICATION
Open Dimensions: 210cm (L) x 90cm (W)
Closed Dimensions: 82cm (H) x 90cm (W)
Leg Height: 43cm – 56cm
Bed Weight: 17.35kg
Sleeping bag weight: 4.5k
Sonik Gizmo Single Alarm Blue  £49.99
This product may be small but it really does deliver big results. One big feature that really stands about this product is the fact that it allows you to adjust indicators or line tightness in a quick and convenient way. The V.T.S. functions are also controlled by click dials which are quick and easy to set up for a number of alarm heads. Along with all of this the electronics are all fully protects, providing some good peace of mind and the receiver has an anti-theft function, great for ensuring excellent protection. The alarm also comes with a new updated bivvy light and a speaker. It can also act as a standard bivvy light or can add and extra level of sound an illumination when synchronised with the provided alarm heads.
Trakker Tempest Brolly 100 £249.99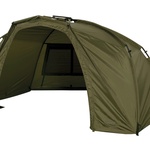 These new 2021 models could well reach new levels of comfort not seen before. This model also boasts the introduction of the twin rear vents making this brolly one of the most modern around at the minute. As you would expect though the features you would come to expect are apart of this product. Including anti-twist poles, 10,000mm hydrostatic head, polyester material and the standard GPR block design. As well as this there are a number of extras that are available which include Skull Cap, Skull Cap Wrap, Social Cap and groundsheet. If this doesn't make you think this is a great product then the fact that it is multi-functional, and able to be tailored to your needs due to the fact that there are a choice of two infill panels that can be zipped to the front of the brolly. Undoubtedly this is one of the best products of its type that Trakker has produced.    
TECHNICAL SPECIFICATION
Material: 210D Polyester - waterproof and durable
Weight: Approx  5.5 kg (plus pegs and weighing 0.75 kg)
Dimensions: 125cm (H) x 250cm (W) x 230cm (D)
Transport Size: 110 x 25cm
---